---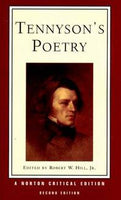 Tennyson's Poetry
Norton Critical Edition
This volume offers one of the most comprehensive surveys of Tennyson's poetry available for the serious student.
It includes selections from the 1830, 1832, and 1842 volumes, together with songs from The Princess and In Memoriam; complete poems from the middle period, including Maud, Enoch Arden, and nine Idylls of the King, including the Dedication; and a generous offering from the late period, 1872-92. The authoritative texts are based on the Cambridge Tennyson; additional selections have been taken from Sir Charles Tennyson's editions of Tennyson's Unpublished Early Poems (1931) and The Devil and the Lady (1930), as well as the Eversley edition, with notes by the poet's son. The texts of the poems are copiously annotated and the lines of poetry conveniently numbered for easy reference. A special section, Juvenilia and Early Responses, offers easy access to work by the young Tennyson, not readily available elsewhere, together with responses from his contemporaries.

Criticism includes significant statements on Tennyson as well as interpretations of the major poems. A special feature is Georg Roppen's essay on Tennyson and the theory of evolution. Other critical voices are those of A. C. Bradley, Harold Nicolson, Douglas Bush, Arthur J. Carr, T. S. Eliot, Paull F. Baum, John Killham, F. E. L. Priestley, Francis Golffing, and Robert W. Hill, Jr.

A Chronology, Selected Bibliography, and Index are also included.