---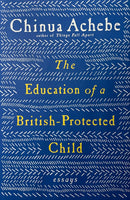 The Education of a British-Protected Child
Chinua Achebe
From the celebrated author of Things Fall Apart and winner of the Man Booker International Prize comes a new collection of autobiographical essays—his first new book in more than twenty years.
Chinua Achebe's characteristically measured and nuanced voice is everywhere present in these seventeen beautifully written pieces. In a preface, he discusses his historic visit to his Nigerian homeland on the occasion of the fiftieth anniversary of the publication of Things Fall Apart, the story of his tragic car accident nearly twenty years ago, and the potent symbolism of President Obamas election. In "The Education of a British-Protected Child," Achebe gives us a vivid portrait of growing up in colonial Nigeria and inhabiting its "middle ground," recalling both his happy memories of reading novels in secondary school and the harsher truths of colonial rule. In "Spelling Our Proper Name," Achebe considers the African-American diaspora, meeting and reading Langston Hughes and James Baldwin, and learning what it means not to know "from whence he came." The complex politics and history of Africa figure in "What Is Nigeria to Me?," "Africas Tarnished Name," and "Politics and Politicians of Language in African Literature." And Achebes extraordinary family life comes into view in "My Dad and Me" and "My Daughters," where we observe the effect of Christian missionaries on his father and witness the culture shock of raising "brown" children in America.

Charmingly personal, intellectually disciplined, and steadfastly wise, The Education of a British-Protected Child is an indispensable addition to the remarkable Achebe oeuvre.