---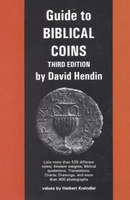 Guide To Biblical Coins, Third Edition
David Hendin
Amphora, New York, 1996.


Lists more than 525 different coins according to a new numbering system that will not conflict with previous editions. Many new line drawings have been added, dramatically expanding Hendin's previous edition, and all new photographs of more than 400 coins. Aimed at both beginning and advanced collectors, Hendin compiles the knowledge he has accumulated in the 30 years since his year long stay in Israel as a volunteer of the Six Day War. At that time his weekly trips to the markets in Jerusalem led him into one of the world's most fascinating hobbies - collecting biblical coins - with which he has remained fascinated ever since. Noted professional numismatic Herbert Kreindler has updated his evaluations of the coins in this popular series. Kreindler is also widely known as an expert in biblical coins, and the evaluations are based upon worldwide auction and private markets of the past decade.
David Hendin is known worldwide as an authority on biblical and ancient Jewish coins. A New York literary agent, Hendin has had a thirty-year love affair with coins and antiquities of the Middle East. He received the 1996 Ben Odesser Judaic Literary Award for his writing on ancient coins from the Holy Land, and in 1993 he was awarded the Numismatic Literary Guild award for "Best Magazine Column." Hendin has taught at the American Numismatic Association Summer Seminar. In 1985 and 1986 he was chief numismatic of the Joint Sepphoris Project under the auspices of Duke University and Hebrew University. As consultant to the Jewish Museum in New York, Hendin prepared and acquired coins for the exhibit and edited the catalog, "Coins Reveal". He also edited "Ancient Jewish Coinage I and II by Ya'akov Meshorer. Hendin has traveled to Israel more than 50 times. He is author of "Ancient Guide to Jewish Coins", "Collecting Coins" and eight other books. He has been listed in "Who's Who in America" since 1974. David Hendin has long been America's leading secular scholar on ancient Jewish coins and coins of the Bible. Mixing and working with the leading numismatic people in Israel for decades, David has made his 3rd Edition more complete than I ever imagined he could have. The only thing you need beyond this volume to know & understand coins of this period are the few die studies that exist. A must, and by the way, not a large printing. 315 pages text, 32 pages of plate.